You are herePainted Aligator Mosaic
Painted Aligator Mosaic
---
I try to do projects with my children, even if they're just fun projects, and not something they can use work wise. The work ones are good too, things like building web sites, that's something they can use for different reasons. The fun ones can also have big benefits because they teach things like attention to detail, perseverance, dexterity, and more.
This is an art project I did a couple years ago with my daughter Allegra. We had it displayed at our previous residence in the hallway, then we moved and it got put in the attic for a year. I pulled it out the other day and decided to fix it up, then display it here. There's an old shed that I'm using for work, this is on the outside. The shed was in terrible condition, left to fall apart. My BIL Tony worked on the structural part, I patched the roof and painted the outside. Then I decorated it with small signs and this artwork.
This was made using a piece of 1/4 inch Masonite, painted black with oil based paint. Then we used pieces of sponge to apply the colors, which were also oil based. The idea was to make it look like mosaic. A lot of the color sections touched edges, and there was no border. Painting the border and using an airbrush to better define the black spaces between colors took about 5 hours. Drawing it, mixing the colors, and applying them took much longer. One thing that was difficult was making the colors dark enough. When I would would mix them in the little cup, they looked right, but as soon as they got on that black background, man they were WAY too light. Initially I thought it might take 4 hours altogether, man was that inaccurate.
Anyway, I really like the way it dresses up this old hillbilly shack.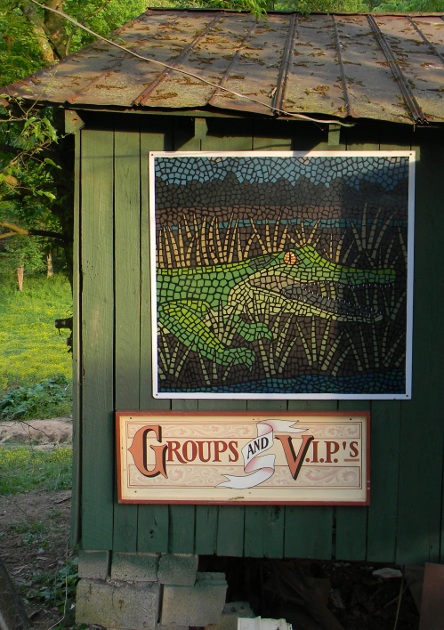 Mosaic on shed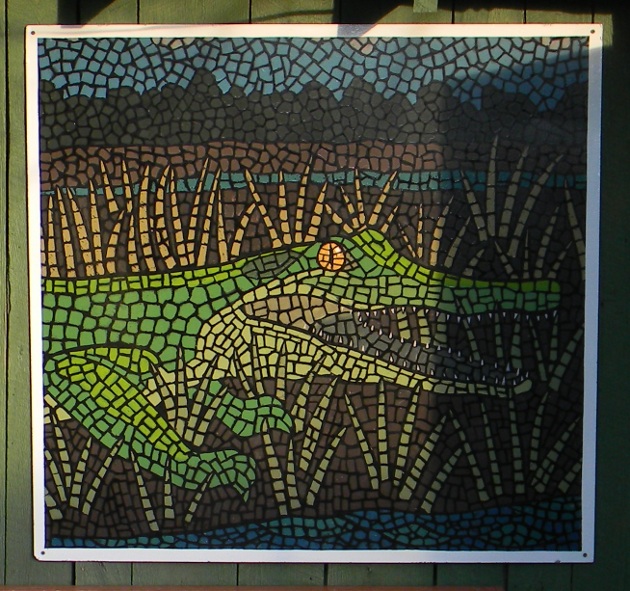 Painted alligator mosaic
How we made a painted mosaic, faux mosaic.