You are hereMurals in Seymour Tn
Murals in Seymour Tn
---
I had an idea about an history loop in Seymour, where one could drive and see historic buildings, sites, and, murals about the local history. The first one is at 1749 East Union Valley Rd. I talked to the owners of the barn, and their kin, to get the information that is the subject of the murals. The first picture is an enlargement of a small black and white photo. There is an elderly woman that lives near the barn, this picture is her sister and her sister's fiance leaning against a car parked at that old school on Boyd's Creek Highway. I liked this picture as soon as I saw it; she has a pretty grin, and her skirt is fluttering a little in the breeze. I've never seen the back of the school, but my son has, and he said there are numerous windows back there. So I think this picture was taken facing the side of the school.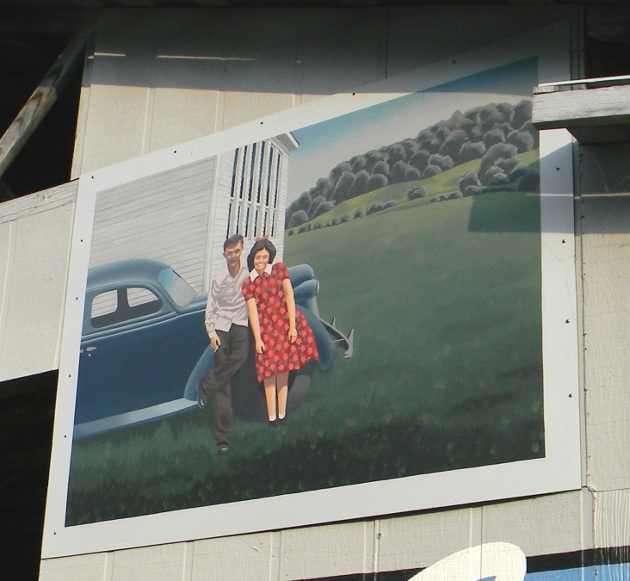 Couple at Boyd's Creek School
Below that painting is the bigger mural. This is about Greene's Rolling Store, which used to drive on this road years ago. It was a converted bus, the seats were removed, and shelves put in. If I recall what I was told; they sold canned goods, soda, candy, and things for the kitchen. They also bought chickens and eggs to sell to the people in the city. I honestly don't know what the bus looked like, this is a 1948 White school bus, later bought out to become White-Freightliner. One person I talked to said it wasn't a flat faced bus, that it had fenders and a hood, so that's why I chose this model. I thought the idea of doing that with a bus was really neat, and a rich part of the local history.
(UPDATE: THIS PICTURE MIGHT BE INACCURATE. Originally, I did an internet search , and found no pictures of Green's Rolling Store. Since then however, I looked in the Dolly Parton Museum, at Dollywood. It's a snazzy, glitzy, upscale production, with some down home included. In the museum is a picture of the back of the bus, and it's not like this one. The people I interviewed were referring to the bus as in ran on East union Valley Road in the 1960's. It's possible that a different bus was used here.)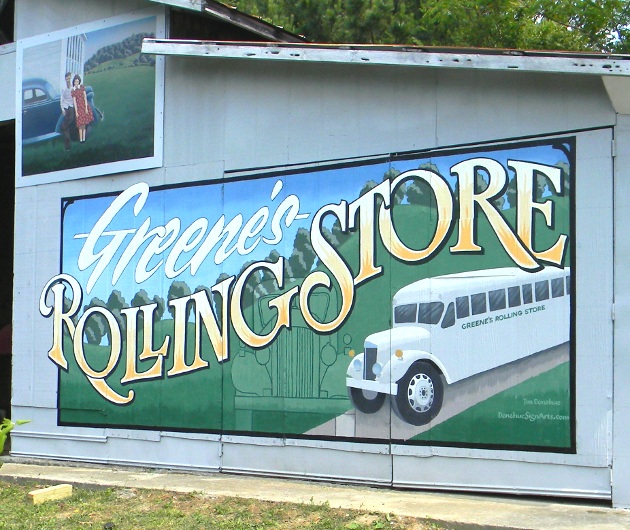 Greene's Rolling Store mural in Seymour Tn
I have at least one more location confirmed, probably two, for painting murals. Depending on content, I'm thinking of asking nearby businesses to sponsor the work. That way, I can do it during the week as a job, not just on weekends. Also, a big bonus is that I got to meet a certain Kent A., who is the local historian.