You are hereRat Rod doors on a 1950 Chevrolet Truck
Rat Rod doors on a 1950 Chevrolet Truck
---
Once in awhile, a job comes along that I really like. The kind of job that if I was rich, I would do for free, just because I like it so much. Then again, if I was rich, I would own a truck exactly like this one, and I could just work on mine. When I was younger, I liked the trucks from the late '30's the most; but now I think this model is better.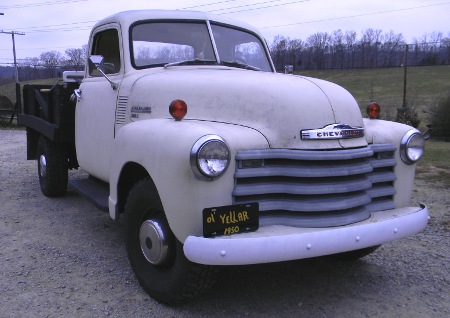 1950 Chevrolet 1 Ton Truck
Anyway, it's a 1950 Chevrolet 1 ton pickup truck, owned by Brian. He's been restoring it as he's able. He said he's been getting great prices on gauges and things for the interior. It had the old split rims on it when he got it, and some very period looking tires too. The wheels and tires have been replaced, and the wiring is new.
Brian had some pretty cool looking vinyl letters on it, but wanted the hand painted look, so he called me. He wanted to think of something to write on it that was related to an old farm truck, said he'd call me back. When he did, he had found the perfect theme. Some years back, his mother in law's father owned a used car dealership in Kentucky. He found a license plate with that logo on it. The license plate was in perfect condition.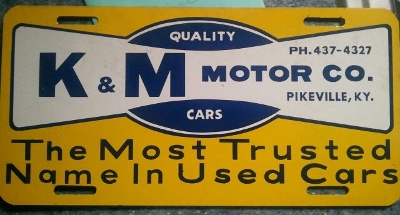 Front Tag
I could have imported a picture of the plate into my draw program, then drawn lines over it. This file would be sent to a sign plotter to draw a paper pattern to the size I needed. Instead, I decided to scale it by hand, with rulers and a pencil. I wanted to do everything just as a sign painter would have done it years ago. I did it that way myself prior to the widespread use of the computer. Then I perforated it by hand with the little spiked wheel tool. You'll notice that there are some small changes in the layout of the logo. I think that when the plate was made, the layout was confined to a short and wide format. I got permission to change the size and location of some words. Sign painters also used the speed stroke lettering that you see at the bottom of the door. It was a time saving measure.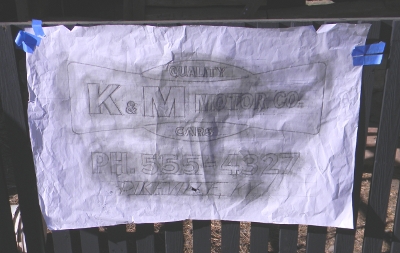 Paper Pattern
After that I positioned it where I wanted on the truck door, and pounced it. That's where you take an old sock full of charcoal powder or chalk, and rub it over the pattern, making powder pass through the little holes. Then I do my abrasion free method of lettering. Below is a picture of the white panel with the black charcoal lines on it from the pattern. The varnish I was using to make clear areas left a little bit of gloss, so I had to wet sand it with 4oo paper, before using the pattern.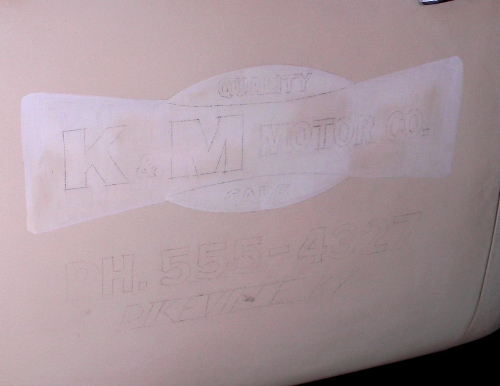 Pounce pattern
Here's some more pictures of the finished truck, some in the sunlight, some in the shade. A bright but overcast day would probably be best, but other than that, I find getting good pictures of this painting method to be difficult. The last step is applying airbrush streaks that look like old chalky paint staining the door below the lettering. Those streaks though, are hard to capture right with a camera. They grab light a different way.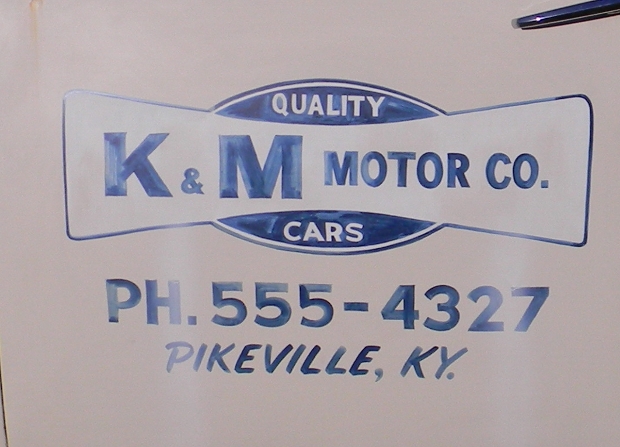 Finished door in sunlight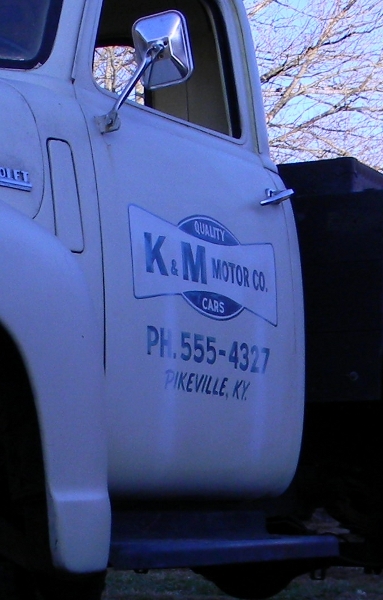 Finished door in the shade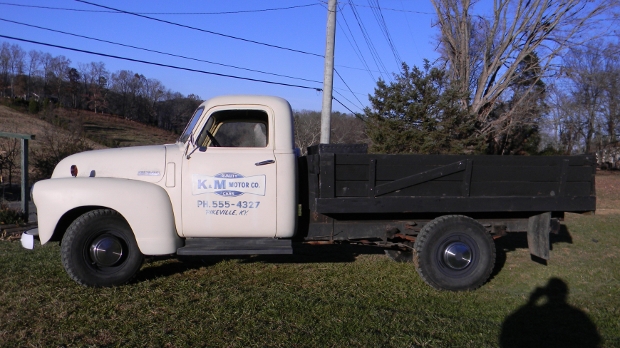 The envy of all the trucks
This is a great looking truck, with beautiful lines, so I want to put a group of pictures of it on line, similar to what I did for the 1944 Mack Firetruck, which you can see by going to the links at the left. I'm also making a drawing of it that a plotter can use to draw the truck to any size. Those two projects are close, but not quite finished.
K & M Motor Co. Pikeville Kentucky