You are hereRat Rod Bicycle
Rat Rod Bicycle
---
I've been working on this project occasionally for months, finally was able to ride it today. It still needs a little work, but most of it is finished. I wanted one of those high wheel bicycles from a long time ago, but they're harder to obtain, so I decided to try and make a newer bike look old.
I went to the pile of bicycle parts, and found a whole one.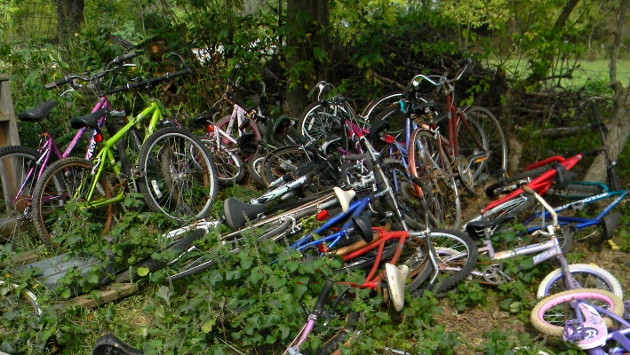 Bike Parts
I found this mens' bike, appeared to have a lot of potential.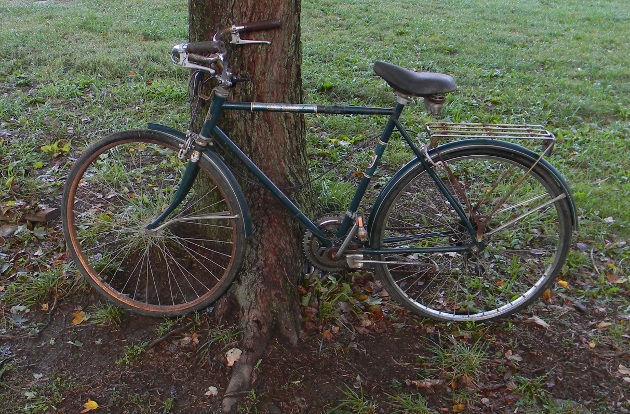 A project is born
At the time, I thought the handle bars needed to be a different shape, so I heated them in the forge. I used sand inside the tube, to keep it from folding as I bent it. Mmmmm, BBQ bike parts anyone?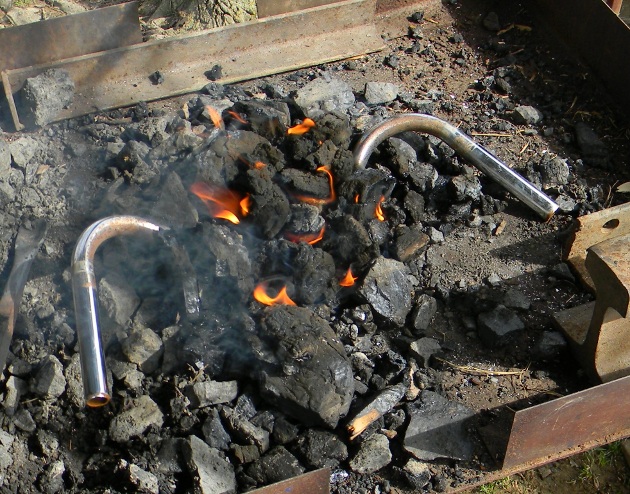 Blazing Handle bars
Next, I wanted a box that I could carry little guys in; because the whole reason for this project was to be able to ride bikes with the children. I don't have a step by step on the box, it's just thin plywood cut into slats. The artwork I drew by hand, then made a vector file of it, and used a plotter to cut a paint mask. You can do faded lettering entirely by hand; here's a tutorial I made:
http://www.ratrodbikes.com/forum/viewtopic.php?f=3&t=61238
Below is a picture of the finished bike. The original stickers were removed, everything painted flat black, including the wheels. The rear wheel has been changed from a 26 X 1.3/8 to a 26 X 1.75. This because the local big box store didn't have the original tire size on the shelf. This is better anyway, I like the stout look on back. It also helps hold all that weight, the box is surprisingly heavy, even though it's made with 1/4 inch plywood. Probably the treated yellow pine boards below the box.
Anyway, the kids really like going for a ride around the yard and driveway, I'll have to get a straighter wheel on front before we hit the road.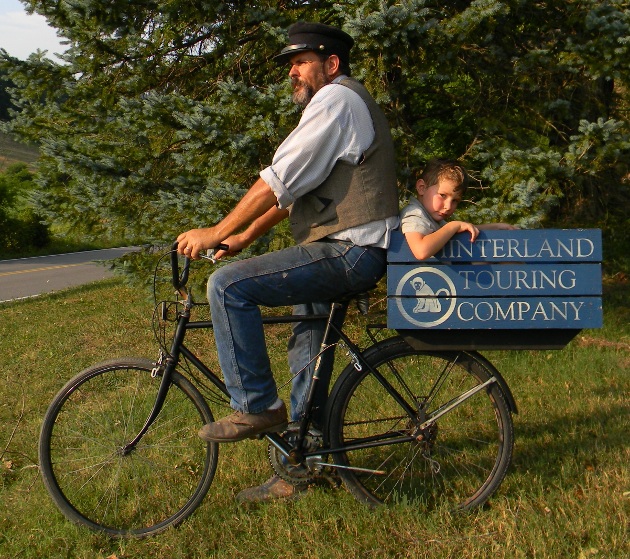 He is certainly out of step with fashion