You are hereA Day at Parrot Mountain
A Day at Parrot Mountain
---
This was another job for A-Welding and Fabrication on Wears Valley Road. They made these fences and gates for Parrot Mountain in Pigeon Forge Tn. I was asked to make them look like aged copper. For years I've known Parrot Mountain was up there, but didn't know anything about the place. It was a pleasant surprise; these guys are what you see first, and a lot of their buddies, right out by the parking lot. I was there for hours, and the birds are funny. I heard them talking, and I heard them imitate sounds like a cell phone, and even the beeper on a service truck that was backing up. You can learn more here:Parrot Mountain and Gardens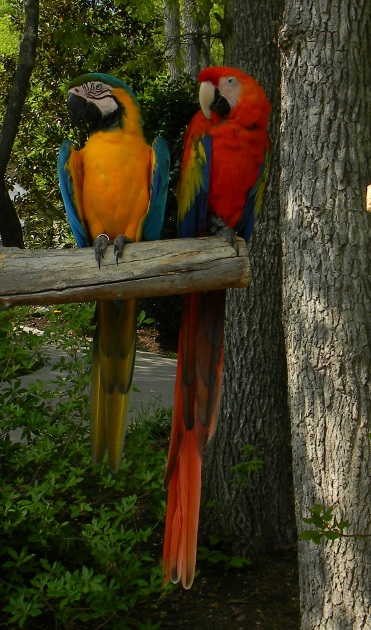 Large Colorful Tropical Birds Not only do they have plenty of birds, they also have gardens with beautiful plants I've not seen before. At the top of the parking lot is the entry, there is also a sloped concrete ramp for wheelchair access.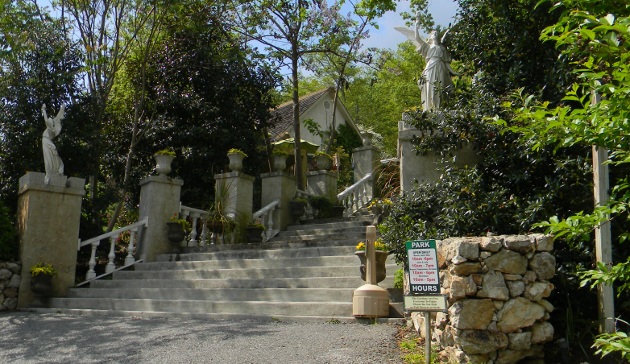 Entry Steps to Parrot Mountain
I'm there to work, so the first part of the patina I do is paint all the lower part of the fence a dull brown. This can have some copper blotches in it.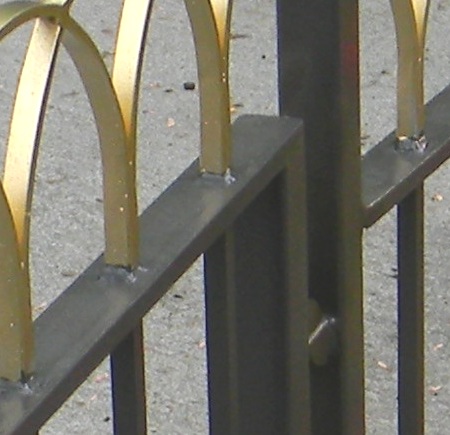 Step 1, brown
Then I applied a dulled blue green, and a lighter tint of the same. When you apply a color, leave the previous ones showing here and there.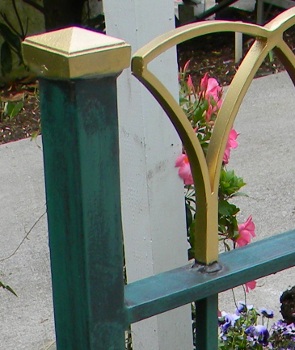 First greens of faux copper finish
After that, I carefully applied the last green. This is the most oxidized looking green. I looked at real patina on a door handle; and noticed that it's mostly in the corners where hands don't rub it off. This is one of the important mental notes to make when doing this. It's not only about having the right colors, but triggering people's memory regarding oxidized metal they've seen before. That brings up the second memory, water induced streaks. I make it look as though rain water has caused it to patina more in some places, places where water would run down. Places where two pieces meet, with a large one above to gather the water. All of these paints are oil based, normally I would be reluctant to use that product, but these colors won't fade easily, so it was doable. I have a lot of experience with oil base paint, so it was easier for me to manipulate. Most of the colors were applied with a rag, some I used an artist's brush first, then rubbed and smeared it afterward. Here's the rained on look: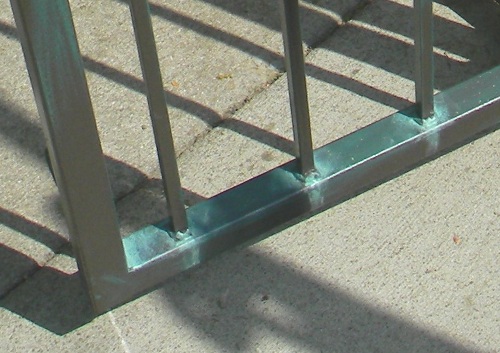 Last Green
Of course, this lightest green gets applied other places as well, but it's heaviest near joints and latches. Here's a view of the bars: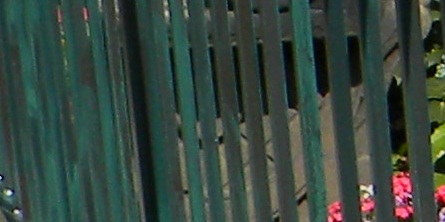 Variety of colors
Here's a look at some lighter green near a gate. A few tips on mixing color: you'll always hear about dulling a color by using it's opposite on the color wheel. This is important, but usually leaves you with a color that is still rather intense. So the next step is to add a gray that's the same "value". That's a measure of how dark or light a color is, completely removed from any color characteristics it has. So the darkest Green is dulled with a little red, and a dark gray. Once you have this color made, it's usually just a matter of tinting with white, to get the two other greens. Might need some gray, it's up to you.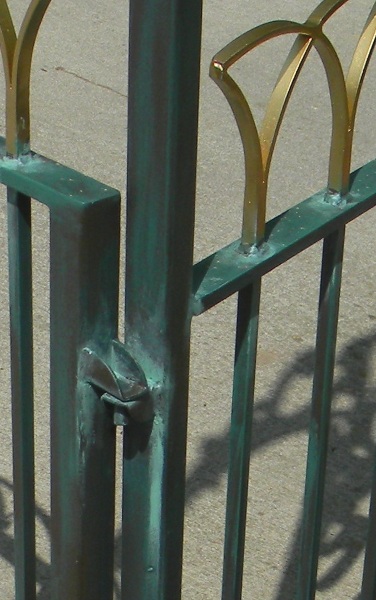 another view